We sell Project Management forms, documents and templates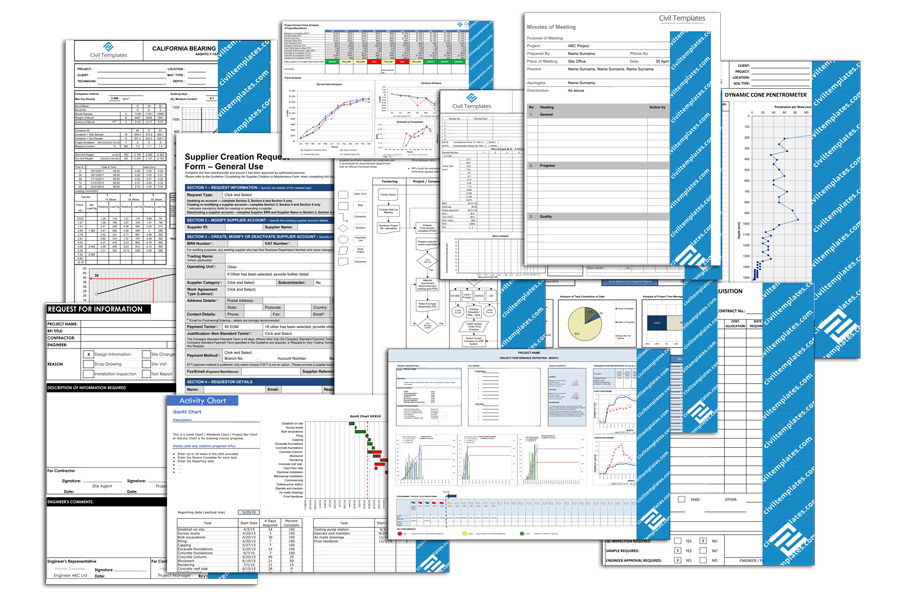 ---
Civiltemplates.com is the home for Project Management document templates and forms for all Construction and Civil Engineering Projects. We are regularly adding new templates and provide over 400 premium project management templates, forms and reports.

Whether you are a General Contractor or a Sub-contractor in a specified trade, we have exactly what you need to streamline or manage any and all aspects of your project. We are continuously developing new document templates, forms, reports to cover your project needs.

We don't offer complicated software, lengthy application forms or buy-in trial periods. All templates are in Excel, Word and Powerpoint.


With every template, you'll be able to access readymade documents that you will be able to manipulate and customize to fit your specific project need.

A successful project starts with a good project plan, standarised procedure and processes. Our Project management templates will not only assist in the above but also improve your efficiency create professional documents in minutes.

Our templates has been developed by Contractors for the Construction Engineering Industry. We understand and appreciate the quickly evolving value and importance of technology in our industry and


we're committed to providing this technology in user friendly project management document templates for all aspects of the construction industry.

Our experience allows us to create these specifically tailored for construction companies with the entire construction process in mind. We therefore strive to provide our customers with proper business tools to help them manage their construction project activities professionally.

Looking for a specific document template or customized form for your business? We have you covered! Please contact us for immediate support and we will ensure a service that meets your highest satisfaction.
---
Access in 3 easy steps
---
Download and start using the latest Project Management document templates!
All our project management documents, forms and templates are pre-configured and ready for use in Excel, Word or PowerPoint. We have the following templates available that can be downloaded, modified and immediately applied to your business.
Project Management Templates:
This package includes templates in Project Management and Productivity which include forms, reports, schedules, checklists, etc.

Quality Control Templates:
This package includes templates for Quality Control Management which include QC Plans, Inspection reports, record sheet, method statements, etc

Planning and Scheduling:
This package covers planning essentials, management plans, progress reports, WBS schedules, risk registers, programme templates, etc.

Health and Safety Templates:
This package includes templates for Health Safety Environment which include QC Permits, Notices, Inspection reports, checklists, etc

Procurement / buying templates:
This package covers project buying or procurement analysis forms, tracking templates, purchase orders, procurement processes, rules, etc.

Geotechnical templates:
This package covers engineering tests, soil investigation tests and logs, soil analysis tests and road works forms, checklists and measure templates.
---
Standard format

Our templates are pre-configured (ready to use) for Microsoft Word, Excel, Powerpoint and PDF, complete with formulas and layouts. No additional software is required.

Save Time

Utilizing our document templates will not only empower your business decision making abilities but also save you considerable development time and resources.

Customise

All of our Templates provide the flexibility to be adapted and customized to your specific business scenarios, and has the robustness to return quality and accurate results.
---
Satisfaction Guaranteed

Every template has been checked and formatted ready for use. We only stock Construction / Engineering templates or forms suitable for Main Contractors, Subcontractors and Consultants. In fact we're so confident about our templates that we offer a 100% money back guarantee. If the templates purchased are not performing as described on this website or if you are not satisfied in any way, please contact us for a full refund.


Secure Online payments

We use Clickbank, a world leader in marketing of digital products and payment security. When paying with Credit Card your transactions are 100% safe. Payment made via ClickBank or Paypal is received without seeing any of your financial information. The transaction will show as CLKBANK*COM on your credit card statement. All online transactions are secured by Clickbank via VeriSign Secured and SSL secure incryption.

---
The benefits of templates

Creating new documents for every opportunity your construction company can waste valuable time and money. Instead, focus on customized business documents and internal templates that can be utilized for a variety of projects, including business communication. These standardized documents will allow your company to keep your brand consistent while also maintaining efficiency.

Templates increase speed
Instead of creating a new document or form every time you send a letter, memo, report or worksheet, you can reuse the template and simply change the content information. This boosts efficiency across the company, at every

level and standing of employee, as the only point workers have to focus on is the actual data necessary.
​
Reduction in errors is a plus
Have you ever sent a document only to realize that certain aspects were missing? Templates can fix those mistakes by enforcing a consistent checklist or points to include. The documents outline what elements need to be captured, leaving little room for missing details.

Consistency and conciseness
Documents can differ in how facts are presented, leaving every employee to individually decide on the display of critical information. Templates

allow for a constant form, which makes it easier for clients to locate important aspects of correspondence quickly. Uniformity will impress clients and customers who know the level of professionalism they will receive by working with
​your company.

​Templates save money
Templates are electronic, reusable and considerably less expensive than having to reinvent a document every time it is needed.

Improvement in customer satisfaction
Templates present information in a professional method, allowing for easier beginning to end project documentation.
---
CivilTemplates.com is a partner site of
Online-Templatestore.com
CivilTemplates.com is not associated with Microsoft. Microsoft® and Microsoft Office® are registered trademarks of Microsoft Corporation.